Thank you for visiting my site….
Please subscribe to be kept up-to-date with my progress and achievements as they happen.
If you have an enquiry, are a charity or a potential sponsor, please complete the enquiry form on the right, and we will be in touch within 24 hours to discuss your query.
Join us on social media…
If you would like to donate to support my challenge, please click on the 'go fund me' link. Alternatively you can deposit directly into our Paypal account and we will send you a receipt by return email.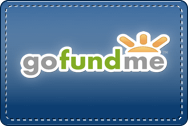 Or donate directly through PayPal